Mid-Side Services
NZWTA
One of the options for testing mid-side samples is sending them to the New Zealand Wool Testing Authority (NZWTA) for testing.
NZWTA offer several testing options such as;
Micron Only
Micron & Yield
Micron & Yield and Length & Strength
If you would like to send your mid-side samples to NZWTA then get in touch with the DoA on 27355 or email This email address is being protected from spambots. You need JavaScript enabled to view it.
If you are sending samples to be tested by NZWTA then you will need to send your samples to the Department of Agriculture where they will then be vac-packed and forwarded on with our regular wool sample parcels to New Zealand. See document below for guidelines on your mid-side samples.
Waiting time for results back from NZWTA is between 1-2 months depending on shipping from the Falklands.
OFDA2000
The other option for mid-sdie testing is using the departments own Optical Fibre Diameter Analyser (OFDA2000). Samples must be a minimum of 45mm to be tested on the OFDA2000.
The OFDA2000 offers sumerous results such as;
Micron
Micron deviation
Standard deviation
Coefficient of variation of diameter
Length
Standard deviation along the staple length
Comfort factor
Curvature
Standard deviation of curvature
Minimum micron
Maximum micron
Finest point from tip
Standard deviation along the staple
Yield and strength cannot be reported by the OFDA2000.
Waiting time on receiving results for OFDA samples varies on workload within the department. However, if the department is informed well before receiving samples then they can ensure someone is available to carry out the testing with results being sent out in a timely manner.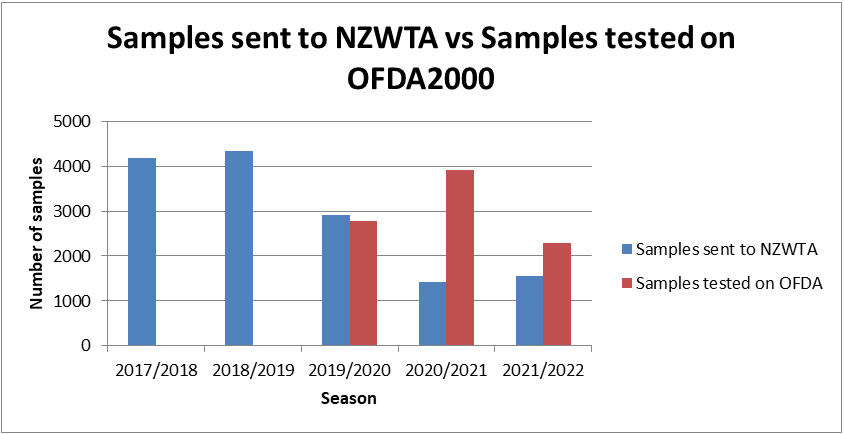 If you would like more information on mid-side sampling then please contact This email address is being protected from spambots. You need JavaScript enabled to view it..