Core Sampling
Background and Information
In 1999 the Department of Agriculture (DoA) set up a link with the New Zealand Wool Testing Authority (NZWTA) to be their accredited representatives to
oversee the core sampling of Falkland Islands bales of wool. The DoA currently has 4 qualified wool sampling officers certified by the NZWTA.
The information gained from the testing of core samples is used to generate a legally binding document that enables growers to sell their product worldwide, it is know as an IWTO Pre-Sale Test Certificate.
The criteria shown on the Pre-Sale Certificate are;
mean fibre diameter
yield (Schlumberger Dry)
colour
vegetable matter
gross mass
tare
net mass
total bales
bale numbers
Benefits of coring locally;
Opens up the to sell wool to a greater number of destinations
Sell it in the international market place and gain a price for their product that is based on world market indicators
To rationalise wool freight logisitics
To increase flexibility as to time of selling
Trends
In the first year growers were cautious of this new service and only 726 bales were manually cored. Over the years interest has increased, this last season (2021/22) saw 7399 bales cored.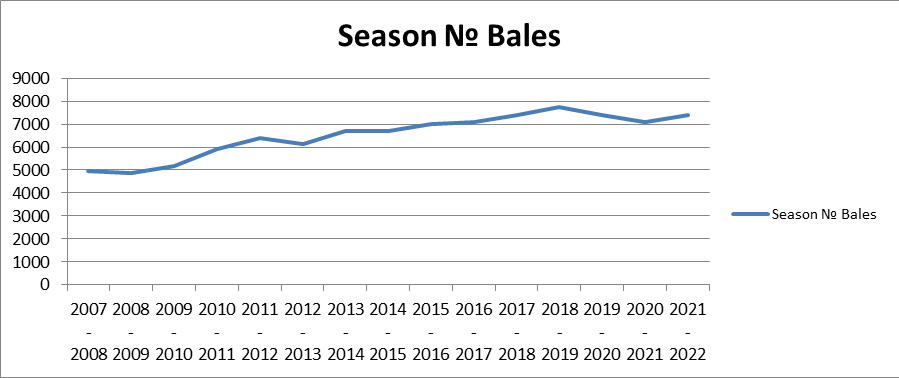 Grab Sampling
There is also the opportunity to grab sample bales. The main purpose of grab sampling is the test the length and strength (L&S) of the staple and Position of Break (PoB) within the staple. In counties that sell wool by auction the grab sample is also used for display to let potential buyers see and feel the quality of the wool. Only main lines of wool tend to get grab sampled.
Looking Forward
The current wool warehouse is situated on FIPASS, a floating dock, which is due for imminent demolition. A new purpose built wool warehouse will be situated on dry land with hard standing for trucks to unload and turn around, load and stack containers, office space and new semi-automatic core and grab machine. It is envisaged that this new facility will improve throughput and efficiency of handling and testing of wool bales for Falkland Island farmers.
For more information on coring please contact This email address is being protected from spambots. You need JavaScript enabled to view it..