Environment
Introduction to the environment — Environmental Concerns — Marine Hazards — Restrictions due to fishing
The environment, and its protection from any possible adverse effects of commercial activities, is of prime concern to the Falkland Islands Government.
Several pieces of legislation have been enacted to protect the environment: these are modelled on UK laws. The Offshore Minerals Ordinance 1994 (as amended) and the Conservation of Wildlife and Nature Ordinance 1999 provide the basis for the environmental protection legislation. Further provisions ensuring the protection of the environment are contained in individual production licences. All Falkland Islands legislation can be downloaded here.
Environmental Impact Assessments
Before drilling operations can commence, licence holders must conduct a full environmental impact assessment (EIA), required under the 1994 Minerals Ordinance (as amended). The document produced from this process is an Environmental Impact Statement (EIS). EIS are reviewed by the Government and specialist advisors alongside a statutory public consultation period, and are also made available to local non-governmental environmental organisations. Licensees are expected to take account of the findings of any such reviews, and make any changes to the EIA considered appropriate by the Government. The EIS should contain a plan for minimising any potential environmental threats perceived as a result of planned operations, as well as a strategy for dealing with any adverse effect on the environment caused by the operations.
Several historical EIA documents (these do not necessarily represent legal compliance under the current regime) are available to download from the list to the right of this page, the remainder can be accessed from
Public Documents
, along with the 2016 guidance note on Environmental Impact Statements.
The first six wells drilled in the North Falkland Basin in 1998 were covered by a single EIA (prepared on behalf of FOSA* by ERT Ltd). This EIA does not automatically cover any further wells to be drilled elsewhere in the North Falkland Basin, nor future wells drilled in the same blocks as those wells drilled in 1998. However, it formed a good starting point for future EIA work-ups.
*FOSA stands for the Falklands Offshore Sharing Agreement, an umbrella organisation comprising all operators working in the North Falkland Basin in 1998. FOSA ran a single supply base and rig management system, and all its members contributed equally to the EIA assessment and other environmental studies before drilling.
Climate
The Islands are at about 52°S, and are therefore at a similar latitude south as London and Calgary are north. The climate of the Falkland Islands is similar to that of northeast Scotland, and exploration activity can take place for most if not all of the year.
Month

Mean temp °C

Onshore temp range (°C)

Rainfall mean (mm)

Mean wave height (m)

January

10.94

15.35°C

to

6.55°C

62.93

2.1

February

10.83

15.16°C

to

6.42°C

48.79

1.8

March

9.24

12.96°C

to

5.69°C

55.53

1.85

April

6.82

9.89°C

to

3.79°C

54.07

1.5

May

4.53

6.87°C

to

2.23°C

48.91

1.65

June

2.42

4.34°C

to

0.6°C

60.57

2

July

2.33

4.46°C

to

-1.7°C

41.99

2.6

August

3.11

5.74°C

to

1.1°C

34.95

2.6

September

4.04

7.34°C

to

0.8°C

35.08

2

October

6.43

10.42°C

to

3.4°C

36.11

1.8

November

8.56

13°C

to

4.7°C

37.14

1.85

December

9.64

14.29°C

to

5.7°C

56.18

1.9
Weather effects on exploration activity
Seismic surveys conducted around the Islands since 1992 have tended to be acquired during the Austral summer months of December to April.
However, examination of the weather and seismic acquisition statistics demonstrates that exploration is possible for most of the year. The annual weather downtime for seismic activities is just 19%.
| | | | | |
| --- | --- | --- | --- | --- |
| Month | Total of seismic shot (2D km) | Average daily production (2D km) | Weather downtime (as % of time in production(1)) | Seismic acquisition |
| January | 5483.275 | 53.12 | 15.06 | Good |
| February | 2766.1 | 48.53 | 1.4 | Good |
| March | 3603.925 | 54.04 | 34.4 | OK |
| April | 2823.55 | 25.24 | 28.08 | OK |
| May | 1016.85 | 35.34 | 4.7 | OK |
| June | 585.1 | 21.74 | 64.4 | Poor |
| July | 816.35 | 26.33 | 63.4 | Poor |
| August | 366.164 | 10.93 | 90.0 | Poor |
| September | 1945.607 | 64.85 | 46.1 | Poor |
| October | 428.09 | 107.02 | 0(2) | Good |
| November | 718.4 | 50.56 | 0 | Good |
| December | 4990.15 | 75.61 | 19.7 | Good |
1 - discount downtime due to mechanical failures
2 - small quantity data collected
Note:these statistics include data up to 2001 only. More recent data are yet to be added. For further, more recent information, please see Time taken to carry out seismic surveys in Falkland Islands Designated Area - April 2006
The Falkland Islands contain some of the most beautiful, important and accessible seabird and marine mammal populations in the world, along with supporting a wide range of other flora and fauna. The biodiversity in these remote islands has allowed the economy to flourish through sustainable tourism, fishing and agriculture. These industries are the cornerstone of the Islands, and the Falkland Islands Government is committed to protecting and conserving the environment for future generations.
All marine mammals are protected under the Marine Mammals Protection Ordinance 1992.
Some parts of the coastline and many of the smaller islands are designated as protected areas. There are plans in progress that may lead to marine designations for a wider range of habitats and species. Designated areas and environmental concerns must be fully considered within each EIA to ensure that all risks and possible impacts are mitigated against.
Highlights
There are 64 breeding species of birds, over half of which are dependent on the sea for food.
The Islands boast the world's largest breeding population of black-browed albatross.
There are five breeding species of penguin on the Falkland Islands — Rockhopper, Magellanic, Gentoo, King and Macaroni.
Three species of seal (elephant seal, sea lion and fur seal) breed on the Islands, and the less common leopard seal is seen occasionally.
Porpoises and dolphins are common, as are several species of whales
Offshore Operations
Companies conducting surveys or drilling operations in Falklands waters must demonstrate to the Government that they are able to conduct their operations with minimal impact on this sensitive environment.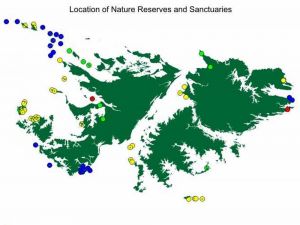 There are numerous rocky islets and some shoals around the Falklands, particularly in inshore waters. Known shallows are recorded on the Admiralty charts for the area (refer to Admiralty chart 2505 for a small-scale map of the area and an index of larger-scale charts). Bathymetric data acquired during speculative seismic and gravity surveys may be purchased from the contractors who conducted the surveys.
Kelp (seaweed) is common around the Islands in water depths up to 50m, growing on hard substrates in shallow water. Dense kelp forests can be a hazard to seismic operations, and other vessels.
Shipwrecks and war graves
There are numerous wrecks in inshore waters dating back to the last century when the Falklands played an important role as a repair port for ships damaged while rounding Cape Horn. Six wrecks lying within Falkland waters result from the World War 1 Battle of the Falkland Islands on 8th December 1914. All six of the 1914 wrecks lie in water deeper than 500 m.
Further wrecks, resulting from the 1982 conflict between Britain and Argentina, also lie dispersed throughout Falklands waters. Some of the wrecks are designated war graves and must not be disturbed (for further information please contact the This email address is being protected from spambots. You need JavaScript enabled to view it..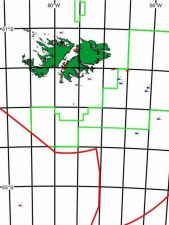 Sea bed conditions
There has been no systematic, extensive sampling programme, and therefore little is known about the precise nature of sea-bed sediments. In general, the sea bed appears to be hard, and is seen as a strong seismic reflector in places. Apparent bottom simulating reflectors have been observed, suggesting the possibility of gas hydrates in places, particularly in the deeper waters above the South Falkland Basin.
A shallow sampling and drilling-site specific high-resolution seismic programme was conducted in the North Falkland Basin before the six exploration wells were drilled there in 1998. Although the high-resolution data indicated the potential for shallow gas hazards in the basin, no such hazards were encountered during drilling. The potential hazard from shallow gas accumulations was minimised, at most well sites, by drilling pilot holes before the full-size exploration hole. The Government would require operators to conduct site-survey investigations at any proposed drilling location before permission would be granted to spud wells.
There are no pipe lines, stationary sub-sea military installations, dedicated shipping lines or operating phone cables in the offshore area. Military manoeuvres are possible at any time but can be structured so as not to interfere unduly with exploration work.
Notifications of offshore activity
All exploration activity must be advised to the Falkland Islands Government at least 30 days in advance, and could be subjected to temporary restrictions due to military or fishing activities.
The sale of fishing licences provides the largest single source of income for the Falkland Islands, and fishing fleets tend to occupy a large swathe of Falklands offshore waters for significant time periods.
Because of the economic importance of the fishing fleets to the economy of the Islands, certain restrictions are placed on geophysical survey activities around the Islands. In summary, these restrictions are:
No seismic surveying is generally permitted within 12 miles of coasts. If there is an overwhelming requirement to conduct seismic within the 12 mile zone, requests will be considered on a case by case basis
No seismic surveying is permitted in the area north of 52°S and west of 58°W in water depths of less than 200 m during February to June, because fishing for Illex squid takes place in this area at this time. This restriction will not apply during the seven month period from July to January.
Loligo squid move offshore in January and remain in offshore feeding grounds until October. In view of this, seismic surveys in Quadrants 59, 60, 61, 51 and 40 should ideally take place between mid October and mid January. Applications to conduct seismic surveys in these quadrants outside this period will be considered on a case by case basis, but approval is only likely to be given in exceptional circumstances.
Further details of restrictions on seismic activity can be obtained from the This email address is being protected from spambots. You need JavaScript enabled to view it. in the Falkland Islands.
Care must be exercised during seismic acquisition to ensure that no damage is done to the potential catch of the fishing fleets. Co-ordination for marine activities can be provided by the This email address is being protected from spambots. You need JavaScript enabled to view it., based in Stanley; the Fisheries Department monitors the activity of the fishing fleets on a daily basis.