This email address is being protected from spambots. You need JavaScript enabled to view it.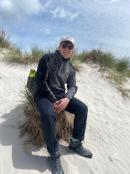 Miscellaneous Information
Miscellaneous Information:
Background & Qualifications
I was born in Salisbury and spent parts of my childhood overseas in Cyprus where I developed a love for nature and the sea. I went on to work as an Assistant Buyer in the UK, developing my data handling skills, before going to university to study Environmental Earth Science at Aberystwyth University in 2020 doing a BSc on the Glacial sediments and stratigraphy surrounding St Dogmael. I applied for this role to follow my interest in conservation while being able to use my experience in data handling and now sees me overseeing, organising and storing data for the Fisheries.
In my spare time I play video games, write poetry, listen to music and hike.