Position:
Fisheries Observer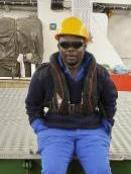 Miscellaneous Information
Miscellaneous Information:
Background & Qualifications
I was born in Kenya. I completed my undergraduate degree in Biotechnology and Biosafety from University of Eldoret. I was an intern laboratory analyst at the Kenya Marine and Fisheries Research Institute (KMFRI). I have worked for the Kenya Fisheries Service as scientific fisheries observer. I have experience working with crabbers, trawlers and longline vessels in the Indian Ocean. I have been trained as a scientific fisheries observer by Capricorn Marine Environmental in collaboration with Indian Ocean Tuna Commission (IOTC) and Kenya Fisheries Service (KFS).

I have interest in Marine Food safety and post-harvest practices that can increase utilisation of Marine Food. I joined the FIFD in the February,2023 as scientific fisheries observer