Position:
Fisheries Observer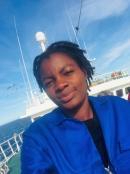 Miscellaneous Information
Miscellaneous Information:
Background & Qualifications
I completed my Honours Degree in Fisheries and Aquatic Sciences at the University of Namibia, 2020.
I have experience in age determination of the two Atlantic hake species, Merluccius capensis and Merluccius paradoxus using otoliths. I was also part of the annual bird survey on the Walvis Bay lagoon, Namibia the year 2018. I did six months internship with the Ministry of Fisheries and Marine Resources, Inland Aquaculture Centre (rearing catfish and tilapia) in 2022.
In January 2023 I joined FIFD as a Scientific Fisheries Observer.