Position:
Observer Coordinator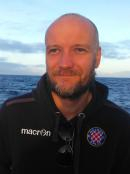 Miscellaneous Information
Miscellaneous Information:
Background & Qualifications
I was born in Croatia where I completed MSc in Marine Fishery at University of Split. I have worked as both, scientific and enforcement observer for FIFD, Institute of Oceanography and Fisheries in Split, MRAG Ltd, Cofrepeche and MEP. I also part time worked as a consultant for MRAG Ltd with tasks of assisting in training sessions for new observers on different projects, briefings, debriefings and different logistic and administration issues. Apart from that, I have experience working as Production Manager and technologist in fish processing. My last position before returning to the Falkland Islands was Marine Programme Officer at WWF.
My main interests are in fisheries management, sustainable exploitation of marine living resources and impact on different fishing gear on marine ecosystem.