Position:
Director of Natural Resources
This email address is being protected from spambots. You need JavaScript enabled to view it.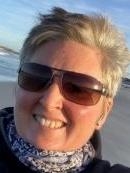 Miscellaneous Information
Miscellaneous Information:
Background & Qualifications
Dr Andrea Clausen is the Director of Natural Resources for the Falkland Islands Government. Recently appointed to the role, Andrea is responsible for Fisheries, Agriculture, Veterinary, Biosecurity, Maritime, a potential new area in Aquaculture. Andrea previously worked in the private sector owning and operating a transport and logistics company, Falkland Islands Tours & Travel and the outsourced Government service for the operation of the Post and Philatelic Office. As well as being an elected Member of the Falkland Island Government from 2005 to 2009, Andrea has chaired the Public Accounts Committee for 8 years, the Chamber of Commerce for 3 years and been a Director of the Board of the Development Corporation for 5 years. Married with 3 children, Andrea grew up in camp at goose Green and Sea Lion Island, and now lives in Stanley.