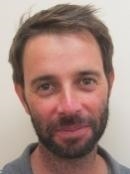 Dr. Brendon Lee | Fisheries Scientist
Phone:

+500 27260
Background and Qualifications

I am originally from the Eastern Cape Province of South Africa, an area containing wild, rugged coastlines, and an abundance of marine life. I completed my BSc (Honours) in ichthyology and fisheries science at Rhodes University in Grahamstown and my MSc in biology and fisheries science at the University of KwaZulu-Natal in Durban, South Africa.

I arrived in the Falkland Islands Fisheries Department in 2014, and after spending a year as a Scientific Fisheries Observer I moved into the position of fisheries scientist (toothfish). I started my PhD in conjunction with this role in June 2017 which was awarded in May 2022. My research was focused on the integrated application of multidisciplinary stock identification methods (e.g. otolith microchemistry, spatial-temporal modelling and phenotypic characters) to improve our understanding of stock structure in Patagonian toothfish populations of the southwest Atlantic. In 2022 I took up the position of Fisheries Scientist, with a focus on developing and conducting biological and ecological research of offshore finfish stocks. The overall objective of my current role is to ensure that conservation goals are met for commercially targeted fish populations providing long term sustainable exploitation.

Publications

Lee, B., Skeljo, F., Randhawa, H. S., and Arkhipkin, A. (2022). Deep-sea movement patterns of the Patagonian toothfish Dissostichus eleginoides Smitt 1898, in the Southwest Atlantic. Marine and Freshwater Research, 73: 833-845.

Arkhipkin, A., Brickle, P., Lee, B., Shaw, PW., McKeown, NJ. (2022). Taxonomic re-appraisal for toothfish (Dissostichus: Notothenioidea) across the Antarctic Polar Front using genomic and morphological studies. Journal of Fish Biology, 100: 1158-1170.

Arkhipkin, A., Shcherbich, Z., Busbridge, T., Blake, A., and Lee, B. (2022). Sexual dimorphism in age, growth and maturation in channel bull blenny Cottoperca trigloides (Forster, 1801) (Bovichtidae: Notothenioidei) on the Patagonian Shelf, Southwest Atlantic. Polar Biology, 45: 573-583.

Lee, B., Arkhipkin, A., & Randhawa, H. S. (2021). Environmental drivers of Patagonian toothfish (Dissostichus eleginoides) spatial-temporal patterns during an ontogenetic migration on the Patagonian Shelf. Estuarine, Coastal and Shelf Science, 107473.

Mann, B.Q., Lee, B.,& Cowley, P.D. (2016). Growth rate of speckled snapper Lutjanus rivulatus (Teleostei: Lutjanidae) based on tag-reapture data from the iSimangaliso Wetland Park, South Africa. African Journal of Marine Science 38: 111-118.

Lee, B.,& Mann, B.Q. (2014). Scomberomorus commerson. In. Southern African Marine Linefish Status Reports. Mann, B. Q. (Ed.). Oceanographic Research Institute, special publication.