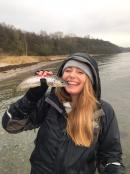 Elisabeth Copping | Fisheries Observer
Phone:

+500 27260
Background & Qualifications

I completed a BSc in Marine and Freshwater biology at the University of Glasgow in 2018 and have recently finished an MSc in Environmental Management from Christian Albrecht University in Kiel, Germany. My master's thesis focused on developing cultivation techniques of the seaweed Bladderwrack (Fucus vesiculosus) in the Baltic region as part of a larger EU Horizon 2020 project. Alongside my master's studies I worked as a researcher at GEOMAR, developing a method for the extraction of microplastics from deep-sea sediments.

I am a qualified PADI Divemaster and have been on several marine science research expeditions focusing on tropical marine ecology. I am particularly interested in fisheries management, restorative aquaculture and macroalgae cultivation/uses. I arrived in the Falkland Islands in February 2022 to work as a Scientific Fisheries Observer.