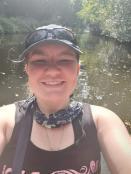 Rebecca Nicholls | Fisheries Observer
Phone:

+500 27260
Background & Qualifications

I completed my BSc Marine Biology and Zoology and MSc Marine Biology at Bangor University, Wales, in 2018. My Bachelors thesis was on the impacts of introducing exotic species into freshwater communities, my Masters Meta-analysis project was on the impacts effecting Sea Snakes and my Masters Thesis was on the impact of Marine Protected Areas on ecologically and economically important fish species abundance and biomass in the Cayman Islands through the use of SCUBA. I am PADI Divemaster and HSE SCUBA qualified with experience in fish, coral and benthic surveys.

I previously worked as a Graduate Marine Biologist/Benthic Taxonomist at the Benthic Laboratory of Thomson Environmental Consultancy, UK, and as an aquarist at both a UK local and at a tropic aquarium, assisting on breeding programmes and larval research to assist the local fisheries.

My interests include the population dynamics, invasive species, biodiversity and biology of marine ecosystems, focusing on fish and elasmobranchs.

In January 2022, I joined the Falkland Islands Fisheries Department team as a Scientific Fisheries Observer.