Position:
Fisheries Protection Officer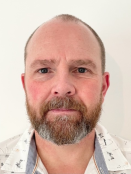 Miscellaneous Information
Miscellaneous Information:
Background
Trev became a Royal Marines Commando in 1989 after leaving School and proudly served for over 26 years specialising as a Mountain Leader. Whilst serving he was deployed across the Globe at sea and on land on various Exercises and Operational Tours including Northern Ireland, Iraq and Afghanistan on numerous occasions. Towards the end of his career he was drafted along with his family to the Falkland Islands to work as the Permanent Staff Instructor within the Falkland Islands Defence Force 2011-2015. The whole family enjoyed life in the Falkland Islands so much so that his children remained whilst he and his wife returned to the UK for his remaining time in the Royal Marines.
After his Service to Queen and Country he became the Director of Outdoor Education and was also the Officer Commanding for the Combined Cadet Force at a Private School for two years, then changed career direction and became a member of a Confined Space Rescue Team. He later became an Instructor for Confined Space Rescue, instructing across Industrial sites around the UK, the Emergency Services and other industries requiring the training in order to conduct their jobs safely.
He and his wife returned to the Falkland Islands in 2023 to be with their friends and family and both started their new lives and careers.