Position:
Fisheries Protection Officer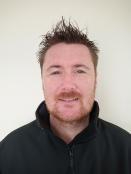 Miscellaneous Information
Miscellaneous Information:
Background
Duncan joined the Army in 1995 and served in Germany, Bosnia, Cyprus, Falkland Islands, Iraq and UK. After leaving the Army in 2009 Duncan moved to the Middle East to focus on Human Resources in the UAE`s Federal Government. After 11 years in Dubai and Abu Dhabi Duncan returned back to the Falklands to take the realms of Human Resources for The Falkland Islands Company. In December 2022 Duncan started a new career as a Fisheries Protection Officer.