Position:
Fisheries Protection Officer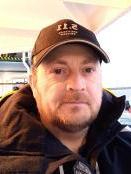 Miscellaneous Information
Miscellaneous Information:
Background
I first came to the Islands when I was serving in the Military back in 2003, but didn't return until June 2016 when I arrived on a private contract.
My back ground in the UK prior to coming to the Falklands was in Law Enforcement and Health & Safety and Compliance. Since arriving back on the Islands, I've done several differing jobs most recently covering Health & Safety in the Private sector which for the past two years included safety inspections on Jigger Vessels as well as safety training for crews. This is where my interest came from for the industry which ultimately led me to this role.
The Falklands is now my families and also my forever home. In my spare time I love to play hockey, go walking, gardening and spending time with my family.