Beverley Glanville (Reid)
Position:
Personal Assistant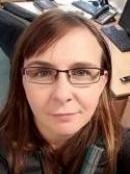 Miscellaneous Information
Miscellaneous Information:
Background
I am a 5th Generation Falkland Islander, I have lived in the Falklands my whole life and I am married with 2 children. My hobbies include walking, swimming, sewing and felting. I started work aged 15 with the Falkland Islands Company at the FIPASS Office as PA/Deputy Manager. I moved to the Fisheries Department in 2003 as Data Clerk and was then promoted in 2011 to the Director of Natural Resources Personal Assistant/Office Manager.
Publications
Laptikhovsky, V., Reid, B., & Brickle, P. (2017). Spawning in a cold bath: reproduction of polar and deep‐sea fish family Psychrolutidae. Journal of fish biology, 90(4), 1283-1296.